Windows 10 aspire to have 1 billion active devices by 2018
Microsoft aspire to have 1 billion active Windows 10 devices in circulation by the end of 2018. This number includes all the devices it is now catering for including; PCs, games consoles, smartphones and IoT devices. This ambition seems to be possible when we look at the free upgrade to Window 10 available for first year. It would entice a large consumer segment to upgrade and may be few enterprises as well. Keeping in mind the growing share of Windows mobile devices in scale economic countries, the target seems achievable.
With Universal Windows Platform, Microsoft aims to lure developers to create/migrate more apps to the platform. In order to help boost the app store and make it more universal and meaningful Microsoft is providing developer toolkits "which enable developers to bring existing .NET, Win32, Javascript, Cordova, iOS and Android apps to Windows 10 devices with minimal code modifications".
With Win32 apps brought into the Microsoft Store users will enjoy the streamlined install, update and removal features of the current modern apps. Microsoft also aims to make Windows app monetisation easier, add video adverts and IAP subscription options and carrier billing options.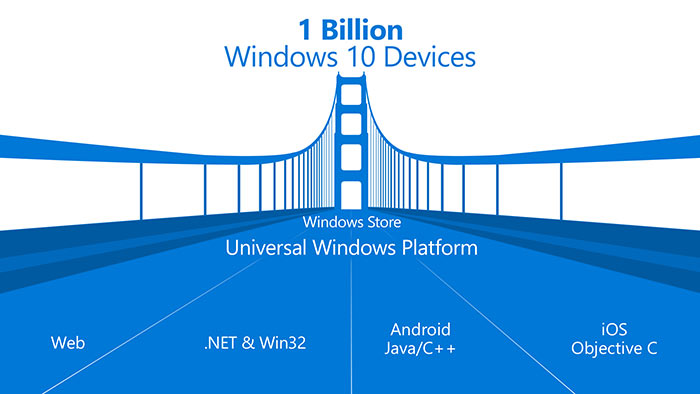 Universal Windows Platform Bridge – classic, iOS and Android apps for Windows
Watch the Windows 10 at the first day of its BUILD 2015 event